I'm Jan, welcome to my illustration website!
A few things you should know about me, I'm a Brit living in a purple house in beautiful Michigan. I love color, Yorkshire Tea, sitting on my porch on a hot day, watching my two kids Cam and Iz embark on their journeys into adulthood, cooking and eating, snuggling my two dogs Hudson and Watts, laughing with my husband Mark, live music, my glorious artist friends (The Coven) and a nice cold glass of Detroit's Ghettoblaster at the end of the day.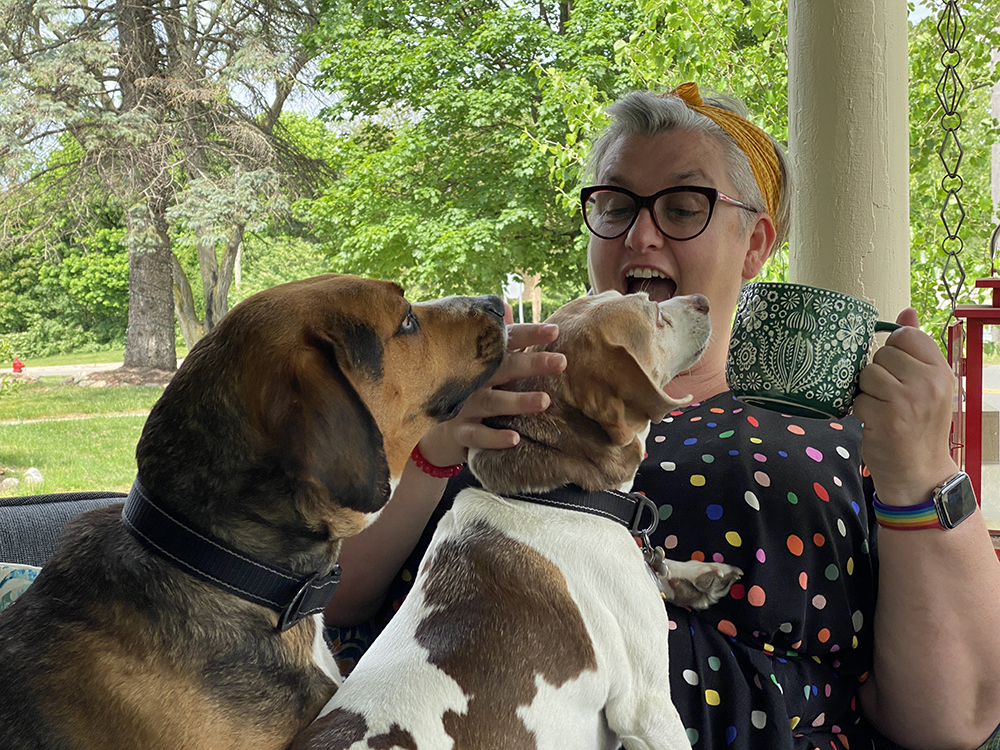 I am a life long artsy girl, over the last 3 decades I have tried my hand at all sorts of art work. I studied Fine Art Sculpture, I taught secondary school art in the UK, I've painted children's furniture and art work. I have felted and stitched fiber art and now I am now taking my first steps on a new adventure - illustration!
I love the joys, beauty and absurdity of life - from the imaginary world of my dogs, to the deliciousness of pizza and the fun of popular culture. I love drawing people - especially women and children and I dream of one day illustrating children's books, as an educator I appreciate the special relationship a child can form with a story and it's imagery. I believe art is for all and should reflect us all in our many weird and magical ways - I want to make images that connect with everyone - yes! Even you!
I work with both tradition materials and digital. I am relatively new to working digitally but I am already so excited by the endless possibilities it presents. I don't think I will ever stop working with pencil, pen and paint in a sketchbook.
I get an enormous kick out of producing a commissioned piece of work that delights my clients. If you are looking for something special to commemorate a special occasion or to be that person that gave THAT gift - drop me a line, I'd love to create something special for you.
I am available for hire and looking for representation!
Feel free to contact me with questions or requests janwallerart@gmail.com
Thanks for stopping by!